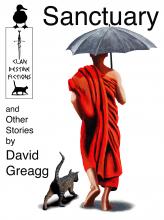 Sanctuary (and Other Stories)
---
The novella and two short stories here are all based on real-life personages.
Gamine, Ashe, Furry and Quark all graced my household for many long and fruitful years; while Tom was a resident of my home town and I heard rumours of his strange and improbable deliverance. There is also a tiny cameo appearance by Dougal and Shadow, whose biographies have been chronicled here.
I have mentioned in public appearances that I have some issues with feline fiction as it is commonly practised. While I love and adore cats and feel privileged indeed that they have shared their lives with me, I believe that the following rules for feline-fic should be adhered to:
1. Let the cats tell their own stories. We all enthuse to other cat-lovers about my beautiful cats and this is how they make me feel; but in fiction the human author should get out of the way and let cats be the centre of attention. Humans will generally be characters, but they should not hog the stage.
2. Cats are not small, furry humans. They are cats. Fictional cats should therefore think, feel and react like cats do.
3. The cat must not die at the end of the story. Yes, we get it. Eventually all cats become Rainbow Cats. Manipulating your readers' emotions by including The Sad Bit At The End is not respecting your audience, especially for younger readers. Don't do it!
Says
David Greagg
about
Sanctuary and Other Stories:
"I promise faithfully that the above rules have been followed in all my cat stories. Enjoy!"
---
Share this Product
---
More from this collection