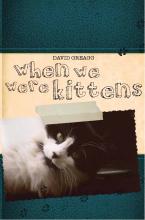 ---
When We Were Kittens
(as told to
David Greagg
) is the gentleman cat's account of his wonderful and challenging life follows his bestselling first book,
Dougal's Diary.
Dougal and Shadow are still living with Man, Woman and Belladonna – the Senior Cat and boss of the house – but the pair are now, mostly, all grown up.
And life is seldom boring as Dougal tackles new escapades and things to figure out; like how his sister has been taking Assertiveness Training from Belladonna.
The young cats make a truce with the wattle-birds and crows in their garden; but find the dogs in the street are noisy and stupid.
As Dougal negotiates his position in the adult world, emotional reassurance, revelations and even help comes from a surprising source. But then – woe! – Man goes away for a Long Time and the poor boy is just sad and lonely.
Will Man come home? Does Shadow still love him, even though she still eats his food? And even if Man does come home again, will they all still go for walks at night?
---
Share this Product
---
More from this collection