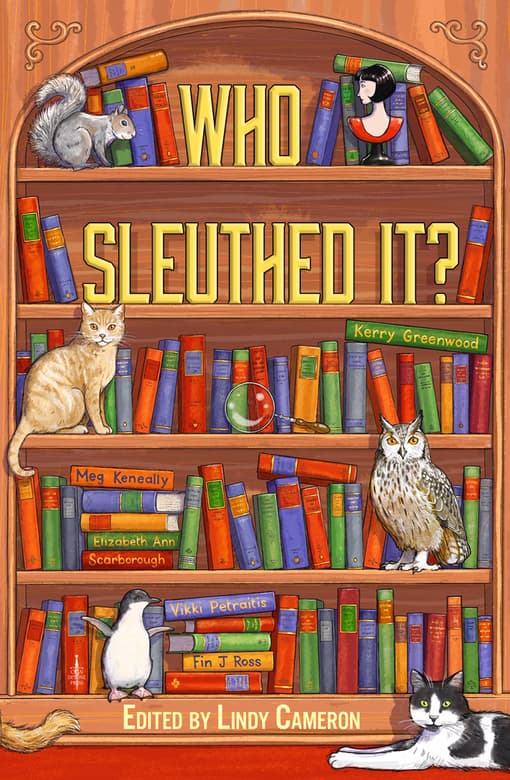 ---
"A Complete Delight"
Who Sleuthed It? is the book you want when you want a book about animals helping their animal friends – or their human sidekicks – solve a host of diabolical crimes and whimsical mysteries.
Why, let us tell you about it in rhyme:
Penguins and humans and dogs run by
Magpies, hawks, owls and pigs that fly…
Weredogs and cats and rats are why…
Dragonflies, starlings, and cockies flash by
Foxes and spiders and bats… oh my
Fingers and wings and paws, all solving…
Mysteries and crimes and…
Ectoplasm?
Good grief
This forthcoming anthology from Clan Destine Press features a host of Australian, American, and Irish authors, including:

Atlin Merrick
Chuck McKenzie
CJ McGumbleberry
Craig Hilton
David Greagg
Elizabeth Ann Scarborough
Fin J Ross
GV Pearce
Jack Fennell
Kat Clay
Kerry Greenwood
Lindy Cameron
Livia Day
LJM Owen
Louisa Bennet
Meg Keneally
Narrelle M Harris
Tor Roxburgh
Vikki Petraitis
Cover illustrated by Judith Rossell
Americans:
Order Who Sleuthed It?
at domestic U.S. prices and shipping!
Praise for Who Sleuthed It?
"fun and fur a plenty to be had…a delightful and fanciful collection,
written for adults, but just as likely to appeal to younger readers"
— ArtsHub Australia

"Whimsical, inventive and canny,
Who Sleuthed It? offers an eclectic collection of mystery tales
that are sure to delight animal lovers"
— Book'd Out
"This fun and innovative book of unique and light-hearted
detective stories was a joy to read"
— The Book Muse

"Amateur sleuths – animal lovers in particular –
will undoubtedly enjoy this eclectic selection
of 'tails' (#sorrynotsorry)"
—  Deborah on Goodreads

---
Share this Product
---
More from this collection