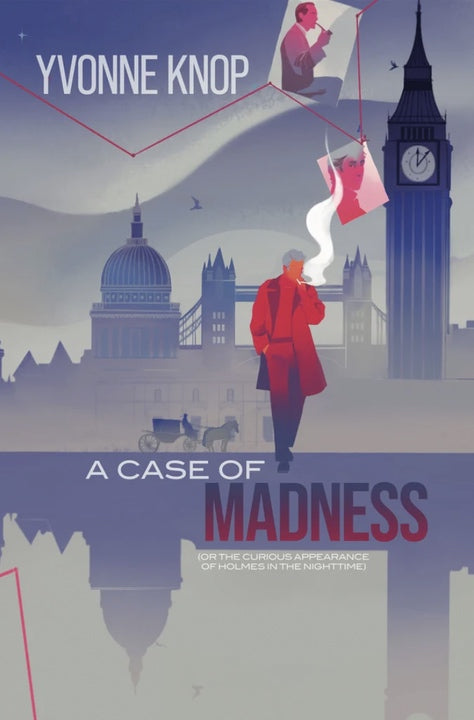 ---
I just got sacked. I was hit by a bus. I'm permanently drunk. I have cancer. I'm inescapably gay. And, incidentally, I've fallen in love with a stranger whose life I saved.
My name is Andrew Thomas, newly-unemployed Sherlock Holmes scholar, and I don't know how to do any of this.
I know only Holmes can help me untangle this madness, and he isn't real. Except he absolutely appeared in my house, told me I'm in love with a man I just met, and then in a fit of pique I sent him away.
Maybe he's a hallucination or a specter or a ghost (pick one?), but now I desperately need Holmes' help.
So to find the answer to my case and the man of my dreams, I'm chasing a fictional character through London with my very own Watson (hi Mina).
(Not quite) business as usual in Yvonne Knop's A Case of Madness (Or the Curious Appearance of Holmes in the Nighttime).
The writer is donating part of their proceeds to MindOut,
which provides gay, bisexual, trans & queer mental health services.

Americans:
Order A Case of Madness
at domestic U.S. prices and shipping!
Also order from:
AbeBooks • Amazon US • Amazon Germany • Amazon UK •
Amazon Australia • Barnes & Noble • Bookdespository (free shipping)
Praise and 5-star reviews
for A Case of Madness
"an adult coming out story…
it really resonated with me"
– Jenny (JennyBuysBooks)

"Probably the most heart-wrenching
first kiss scene I have read in a long time"
– Bella Miller
"A great novel for every Holmes fan…
fresh and unique"
– William David
"I stayed up until 3 am to finish this…
there is so much LGBTQ+ representation…
I wholehearted recommend it to everyone"
– Adrianna Sophie Books

"A sweet love story with
characters who really pulled you in"
– Ollie Hicks
---
Share this Product
---
More from this collection