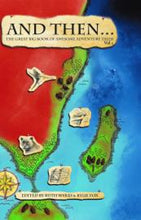 ---
Adventure ~ Action
Danger ~ Derring-do
 
Rip-snorting action adventures of the What If... What Next...
and, most importantly, the And Then… kind.
 
A cohort of Australia's best genre fictioneers, and one bold Kiwi, present a fabulous and strange collection of action-packed adventure stories – each featuring two heroes.
The two-volume And Then... anthology features page-turning and genre-bending stories by 32 award-winning, established and emerging Australian writers of crime and speculative fiction.

The settings are historical, futuristic and contemporary; the heroes are human, animal, alien and mythical; and their adventures are real-world, far-out, speculative, horror, mystery, science fiction and fantasy.

Welcome to And Then... Volume 1, in which 15 authors travel in time and space from Australia of the Gold Rush to an all-too possible dystopian future, from the Outback to Europe in the 1950s and the 21st Century, and from an apocalyptic New Zealand to worlds of steampunk fantastic and outer space exotic.
 
Their heroes are flawed and fabulous, brave and humble; and their tales are enriched with panthers and budgies and demons and dragons – all manner of creatures real and endangered, ridiculous and heroic.

And Then... the Great Big Book of Awesome Adventure Tales Volume 1 features an introduction by Janeen Webb and stories by:
Sulari Gentill,  Jason Nahrung, Alan Baxter, Jason Franks, Lucy Sussex, 
Amanda Wrangles, Evelyn Tsitas, Peter M Ball, Narrelle M Harris, 
Dan Rabarts, Kat Clay, Sophie Masson, Tor Roxburgh,
Emilie Collyer and Tansy Rayner Roberts
And Then... Vol 2 is naturally also available in paperpack and eBooks.
---
Share this Product
---
More from this collection