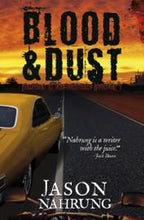 ---
Vampires in the Sunburnt Country Vol. 1
For Outback mechanic Kevin Matheson, it's just another summer's day. Mulga wavering in the haze, sweat on his brow, bastard flies getting in his way.
And then the vampires arrive, leaving his life like road kill in their wake.
Caught between vicious nomadic bikers and their brutal foes from the coast, Kevin fights to save not only those he holds dearest, but his own soul.
But how far will he go to save the people he loves? 
First in the outback vampire duology 
Vampires in the Sunburnt Country
 by 
Jason Nahrung
.
Blood & Dust
 and its sequel 
The Big Smoke
 are both available from Clan Destine Press.
---
Share this Product
---
More from this collection