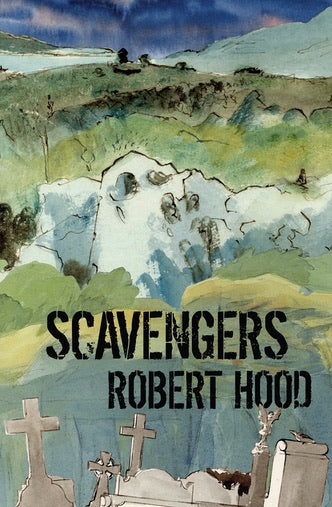 ---
Mike Crowe doesn't believe in ghosts, but it seems there's one ghost that believes in him. Can he escape the attention of a psychopath long enough to help her?
A not-exactly legal PI, Crowe is blackmailed into tracking down a serial killer known as The Scavenger. At the same time, he finds himself increasingly plagued by visions – and eventually visitations – of a young girl he failed to save from being murdered a decade before.
Are these things connected?
Crowe must scavenge through the debris of a world going to pieces around him – at first just to survive and then to find the answers to questions he'd rather hadn't been asked, in Robert Hood's Scavengers.

Praise for Scavengers from a host of award-winning authors:
 
'Robert Hood, master of horror, has turned to crime. In Scavengers, he deftly
stitches the body horrors of Frankenstein's creation into the fabric of a chilling
murder mystery. This archetypal battle between humanity and monstrosity pits a
laconic, haunted PI against a psychotic serial killer, drawing the reader into a dark
web of alienation, intrigue, and sheer terror. I couldn't put it down.'
— Janeen Webb,
author of Death at the Blue Elephant,
The Dragon's Child, 
and
The Five Star Republic (with Andrew Enstice)
 
 
'Scavengers is a spectral thriller of (modern) Promethean dimensions.
A lightning-powered Frankenstein's monster of a novel that stitches hard-boiled
noir with classic horror, the hunt for a serial killer with a revenant ghost mystery,
the black magic black market with Bulli Pass. Gruesome and intelligent, with a
disinterred heart of uniquely Australian grit.'
— J. Ashley-Smith,
author of Ariadne, I Love You, 
and 
The Attic Tragedy
 
 
"Why should you read Robert Hood's Scavengers? Because Hood,
a fantasist of the highest order and one of the best damn wordsmiths
working in Australia today, has combined horror and hard-boiled crime
fiction into a genre-bending, spine-chilling chimera of a novel that will
keep you up all night!"
— Jack Dann,
author of 70 books including The Memory Cathedral, 

The Man Who Melted, and Shadows in the Stone
 
 
'Robert Hood is one of the grand masters of Australian Horror writing.
Here, he infuses a gritty neo-noir crime story with disturbing, haunted,
macabre elements, and to impressive effect.
— Tim Napper,
author of Neon Leviathan, and 36 Streets
 
 
'Scavengers is smart, dark, riveting crime fiction at its best.
This is Hood at the top of his game.'
— Kaaron Warren,
author of Slights, The Grief Hole,
 Into Bones Like Oil,
and Tide of Stone

---
Share this Product
---
More from this collection