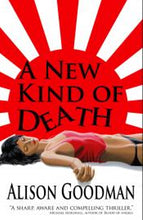 ---
Shooting your first film can be murder…
Hannie Reynard has landed every aspiring filmmaker's dream: a hefty grant to make her documentary, Freaks or Frauds. But the groundbreaking film that is meant to launch Hannie's career may kill her first.
Blowing the grant money on a lost weekend in Paris was bad enough, but now the 'stars' of her film – women who share a unique genetic trait – have stopped talking…and started disappearing.
Blackmailed into accepting a burned out colleague as her cameraman, Hannie follows a perilous trail that leads her and her crew toward a powerful puppet master with a deadly obsession.
But closing in on them all is a ruthless hitman with a lethal shooting schedule of his own…
Alison Goodman
's
A New Kind of Death
 is a dark and wickedly adult comic thriller with just a touch of speculative intrigue. It was previously published in print as Killing The Rabbit and was shortlisted for the prestigious Davitt Award.
'A sharp, aware and compelling thriller, taking the genre into exciting new territories.' - Michael Marshall, author of 
Blood Angels
---
Share this Product
---
More from this collection