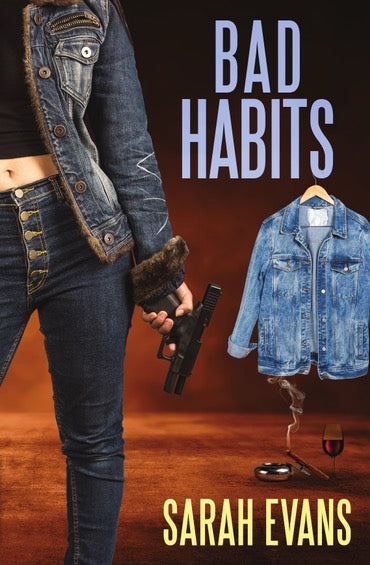 ---
Who the hell is trying to kill Perth cop, Eve Rock, this time?
Bad Habits – the long-awaited sequel to Sarah Evans'
rom-com-crime novel, Operation Paradise, is here. 
A freezer full of body parts is the tip of the criminal iceberg for intrepid Western Australian Detective Inspector Eve Rock.
Butchered bodies and their questionable use; a murdered man in a skip; a brazen multi-million-dollar haul from a safety deposit facility; thefts from a high-end jewellers and art galleries…
All in day's work for Eve and her team.
The festive season has spawned a spate of bizarre crimes which, at least, reassures Eve that others' bad habits far exceed her own. It also gives her a watertight excuse to avoid her dysfunctional family, and to spend time with her two gorgeous colleagues and would-be lovers, Quinn Fox and his son Adam. A win-win situation.
Eve usually relishes solving crimes, but she's less keen when she's the target and the boundaries between work and home become nastily blurred.
Who are the strange people wandering around her digs late at night?
Why is her mum the nun acting more weird than usual?
Why is she such a pushover when it comes to the men in her life?
To celebrate the release of (so many) Bad Habits, Clan Destine Press is also publishing a new edition of Operation Paradise, the first in the Eve Rock series by Sarah Evans.

---
Share this Product
---
More from this collection