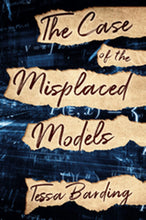 The Case of the Misplaced Models
---
Dr Watson arrives at his surgery one morning to find a stranger about to staple his own leg injury together. Days later, John Watson coincidentally accepts a flat-share with the same man; and before long is laughing, running, and falling in love with the endlessly-fascinating Sherlock Holmes.
While the 'consulting detective' barely seems to notice John, he does agree to help when they learn of the sudden and curious death of Karim Halabi.
John's friend Karim was accidentally shot during a game of laser tag. Case closed, say the police. But as John and Sherlock dig deeper it seems that Karim's death was no accident. It also becomes clear to John that Sherlock's feelings for him are much deeper too, in Tessa Barding's The Case of the Misplaced Models.
---
Share this Product
---
More from this collection