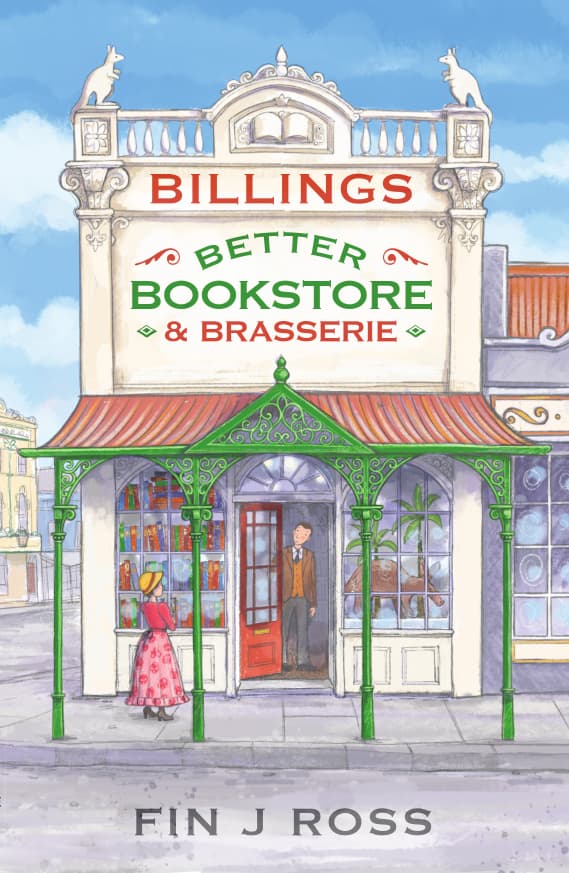 Billings Better Bookstore and Brasserie
---
Young Fidelia Knight arrives in Melbourne in 1874, alone except for her treasured companion, Samuel Johnson; well, half of him.
To escape servitude, Fidelia hides each night in the renowned Coles Book Arcade. She loves words, you see, and wants to know them all.
What she overhears in Coles sets her on a path that will change the lives of everyone she meets, starting with Jasper Godwin, the hopelessly underqualified manager of the new Billings Better Bookstore.
Fidelia's thirst for knowledge is contagious. She tutors two orphan boys and two illiterate women, inspiring them to unlock their creativity; and her exploration of colonial Melbourne takes her to some unusual places.
Nothing daunts this diminutive genius, except the mystery of what really happened to her parents on the voyage from England, in Fin J Ross' Billings Better Bookstore & Brasserie. With illustrations by award-winning author-illustrator, Judith Rossell.

Praise for Billings Better Bookstore & Brasserie
"Fidelia Knight is clever and delightful and,
after you've walked the streets of colonial Melbourne
with her, the Brasserie in Billings Better Bookstore
would be the perfect place to take tea."
— Kerry Greenwood
What a word feast this novel is! The superb cover and
illustrations are by Judith Rossell and they are a perfect
complement to the story…A rewarding read.
A read to return to.
— Jennifer Cameron-Smith

 "If you enjoy wonderfully written historical fiction,
or if you want to be reminded of the marvels to be
found behind the doors of a book shop, you'll
love Billings Better Bookstore and Brasserie."
— Meg Keneally
"A powerful story about family, friends, words and
books that will charm and enthral[l] readers."
— Ashleigh Meikle

"A delightfully quirky, feel-good novel…I got
swept up in the amazingness of Fidelia Knight."
— Claire Louisa

---
Share this Product
---
More from this collection