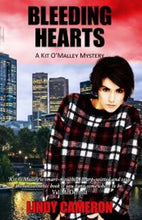 ---
The Kit O'Malley Series, Vol. 2
Poison pens can draw blood.
That is exactly why TV presenter Rebecca Jones hires private eye Kit O'Malley to investigate the threats against her. But the trouble with being tenacious, tough, and too smart for her own good is that everybody else wants her on their team.

As if trying to keep Rebecca alive and on the air wasn't enough, Kit is beset by a clutch of other people's catastrophes that require her very particular skills to resolve.
And, as Kit is the detective who can't say no, before she knows it she is up to her eyes in the worst that Australia's criminal minds can throw her way.

Money laundering, sordid sexual shenanigans, abduction, political sleaze, and murder among Melbourne's movers and shakers threaten to swamp Kit as she picks her way through the morass of double-dealing, treachery, and outright greed.
As if that's not enough, the beautiful and sexy Alex Casenove sweeps back into her life, reminding Kit that love is almost as deadly as hate and that murder never happens at a convenient time.

Lindy Cameron's Bleeding Hearts, the sequel to Cameron's highly acclaimed debut Blood Guilt, is a tightly plotted romp through the dark underbelly of Australia's most-cultured city, vibrantly demonstrating that even the heartless bleed.
---
Share this Product
---
More from this collection