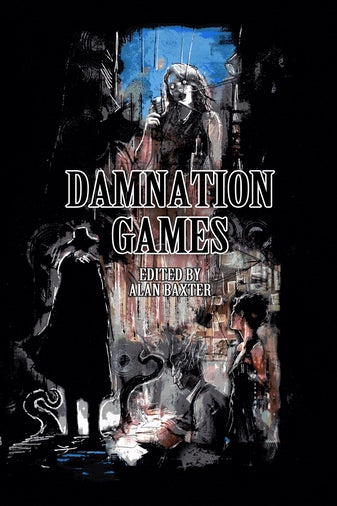 ---
Damnation Games, our forthcoming anthology of supernatural crime and horror stories, aims to make your blood run cold.
That is the purpose of horror writing after all: to scare you witless and make your skin crawl.
And to make you think.
Alan Baxter, editor of Damnation Games, believes horror is the genre of honesty.
'With horror, there's no shying away from brutal reality to supply a happy ending. Even when the evil is overcome, it seldom happens without cost. Survivors are rarely unscathed. Horror looks into the darkness and doesn't turn away. It confronts it.'
This is also true of crime fiction. The rising dread at the heart of a good mystery has the same affect. That oh shit no feeling in a story that's a real as the day's news can have you on the edge of your seat precisely because it could happen – next door. Or in the next room.
Put the two together – crime fiction and horror – and all sorts of nasty business come out of the woodwork. Sometimes literally.
Alan invited a horde of criminally good writers of horror and the supernatural and has produced an anthology of tales set in a variety of locations and eras. The stories herein include urban monsters, Victorian mathematicians, contemporary lawyers, near future police, and outback ghosts.
Our Damnation Games are played by 19 Aussie, Kiwi and international authors:
Gemma Amor ~ Joanne Anderton ~ J. Ashley-Smith ~ Alan Baxter ~ Aaron Dries ~ Gemma Files ~ Geneve Flynn ~ Philip Fracassi ~ Robert Hood ~ Gabino Iglesias ~ Rick Kennett ~ Maria Lewis ~ Chris Mason ~ Lee Murray ~ Cina Pelayo ~ Dan Rabarts ~ John F.D. Taff ~ Kyla Lee Ward ~ Kaaron Warren
Americans:
Order Damnation Games
at domestic U.S. prices and shipping!
---
Share this Product
---
More from this collection