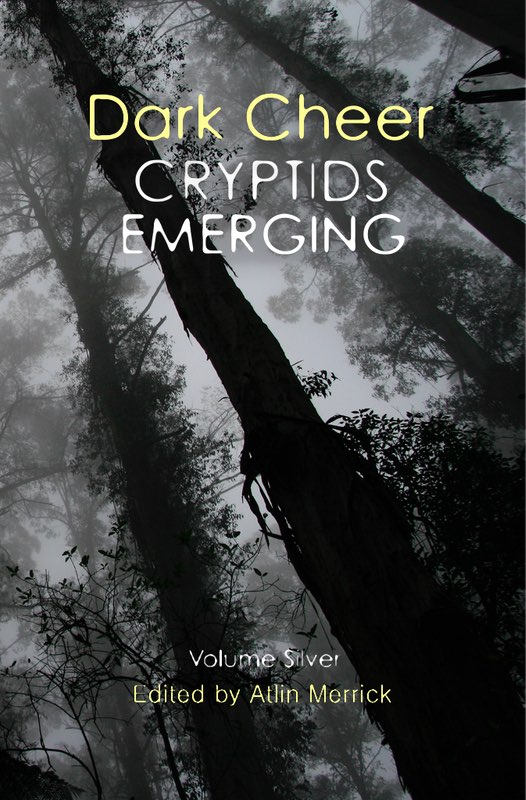 Dark Cheer: Cryptids Emerging (Volume Silver)
---
For the lovers of things that go bump in the night
Here be stories of South African grootslang and bayou grundylow, tales of elementals, jackalopes, and flying motels.
Within you'll find tiny leviathans and rock whales, cambion and kelpie, a girl between time, and a man who saves a gun's life.

These are stories of cryptids who sing or swim or save us, living side-by-side so often unseen…and then seen.
So very much seen.

If we look.
§
Volume Blue – in hardback or paperback – joins Volume Silver with more than 35 stories, and 320+ pages, includes tales by:

• Ali Habashi: Landlocked
• Amy Lynwander: PG At The Park
• Angel Whelan: Healer's Song
• Alison Mcbain: The Development
• Brian Trent: Love Song Of The Wendigo
• Carman Curton: Various
• Carter Lappin: Road Trip
• Dominick Cancilla: Mysterious Travelers
• Elizabeth Walker: Pics Or It Didn't Happen
• Eric Shlayfer: The Kyivan Song
• Euan Lim: The Beauty In The Unexpected
• Evadare Volney: New Song For The Old Canary
• Evan Baughfman: Life And Limb
• Frances Pauli: Original Activist
• George Ivanoff: The Heart Of Gervascio
• G.V. Pearce: Falling For Her
• Jeff Davis: Old Friend
• Julie Ann Rees: The Grundylow
• Keyan Bowes: Chicken Monster Motel
• Louis Evans: Baba Yaga's Apprentice
• Madeline Pine: Loud Came The Rain
• Marlaina Cockcroft: Leviathan
• Marshall Moore: Lakers
• Merinda Brayfield: From The Ashes
• Mikal Trimm: Huffenpuff
• Neethu Krishnan: Fireflies And Thieves
• Nora Bailey: The Beast In The Deep
• Parker Foye: Grim Up North
• Rick Hodges: The Goat-Boy Paradigm
• Rl Meza: Skrunch
• Robert Bagnell: The Hundred Dollar Fortune
• Robert Pipkin: The Jackalope
• Sarina Dorie: A Guide For The Lover Of Jorogumo
• Shawna Borman: The Water Horse
• Simon Kewin: The Monster
• Tom Velterop: Nights Without Dreams
• Yvette Lisa Ndlovu: When Death Comes To Find You
* Speculative fiction, LGBTQIA+, BIPOC, disability, urban fantasy
---
Share this Product
---
More from this collection