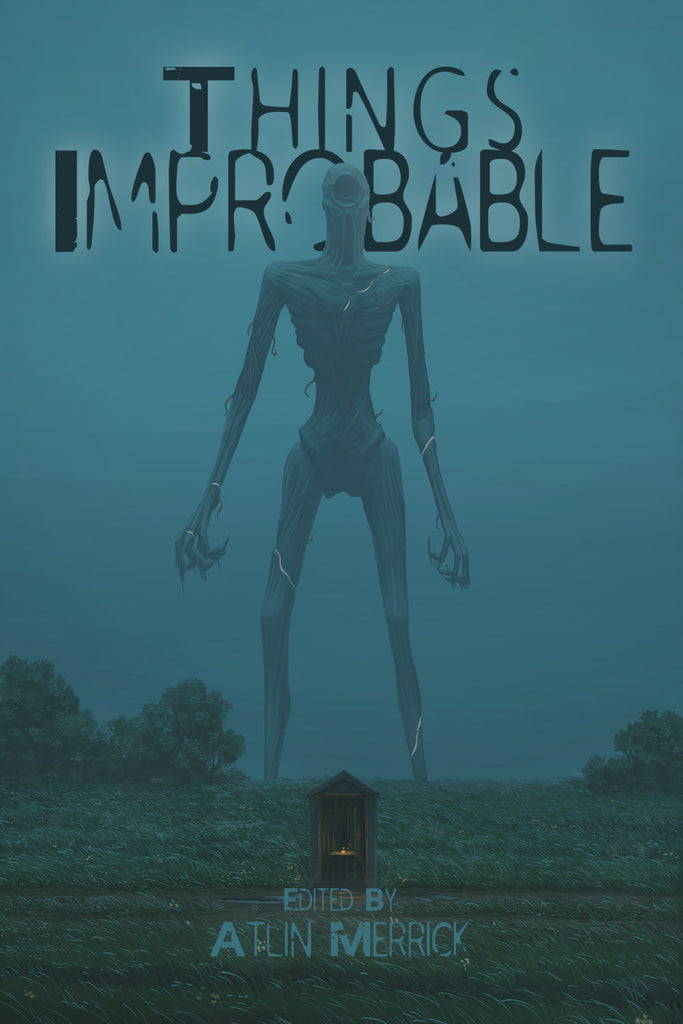 ---
In Things Improbable you may find the apocalypse is not as upsetting as expected and that golems are good at carrying luggage. Look and you'll see today's divinities beside demons, along with hungry bone fairies and a bigfoot immortal.
Here a Māori monster is not quite so monstrous, and a fallen angel a bit less than angelic. You can look through the eyes of a Korean boy one spooky city night, find a rougarou cure, or solve a really very tiny library crime.
Whatever improbable things you seek, open these covers and take a peek. Ghosts, giants, and changelings await.
With more than two dozen stories, Things Improbable is edited by Atlin Merrick and includes tales by:
A.J. Rocca: WRR S639847 E1
Archer Beau: Where Shore Meets Sea
B.C. Fontaine: Nemesis
Calen Macdonald: What's Growing in Fort Cunningham
Carman Curton: The Taste of Stars; Stay; The Last Giant
Dan Micklethwaite: Adonis in Furs
Dominick Cancilla: Instrument of Destruction
Edy Lue: At Dawn

Eli Hayden Loft: Pregnant; Vaguely Apocalyptic

Ellen Denton: Adam and Galeta
E. M. Lamdan: Changeling
Iris Black: Oddnoq
J Moffatt: Coiled on Shells of Loneliness
James Dick: The Leafer
Jamie Perrault: Not All, But a Few
Jen Frankel: Entrée
Jennifer Lee Rossman: The Flatwoods Monster and the Little Green Men
Jeremy Pak Nelson: The Other Mid-Autumn
Joanna Marsh: To Be Human
Kelly Stronach: Sluagh
Kellye Guinan: The Reason for Lingering
Laura J Kelly: The Scent of Change
Laura Simons: (Irreconcilable Divinities)
Lee F Patrick: The Defender
Mara Lynn Johnstone: The Bone Fairies
Naomi Eselojor: Krest
Patrick Hurley: Sung Heroes
Sarah Tollok: Flower
Stacy Noe: The Creeping Horror
Summer Austin: The Sparkhunter
Thomas Badlan: Taniwha
Věra Benedeková: The Ripening
Pre-order for 28 February publication
---
Share this Product
---
More from this collection